Basic information:
- Shipping from Nevada, US to anywhere in the world. Please state your location (including zip code) so I can get you a quick shipping quote! I will ship purchases via the cheapest way possible (i.e. manga and DVDs via media mail- unless otherwise specified). Please remember that if shipping outside the US, the shipping cost goes up

- I accept Paypal!

- Discounts are offered on purchase of multiple items!

- Since school is in session, shipping will occur on Fridays unless otherwise stated.

-Feedback!- I'm willing to do trades!

- if you're interested in anything at all lease leave a comment, send a message, or email me at renaxremy [at] hotmail [dot] com! if you disagree with a price for any reason, please let me know; i'm totally willing to haggle!

- additional pictures of items available upon request


updates:

7/22: prices on most items (DVDs and manga, shitajiki, and keychains) changed to include shipping cost fo US only, if you are buying from anywhere else in the world, the shipping price will go up

8/8: prices have been cut!

8/21: i've added a few items in the section of random items! please go check it out! :)

11/12: it's been a while, but some Persona 4 items have been added to the random item section, go ahead and check them out if you're interested!3/25: new items added! please take a look!


Manga and Books:

- All books are in good condition with shelf wear.
- All individual books cost $3 shipped! Only exception is the How to Draw Manga book which is $5 shipped
- Discounts are given on purchases of multiples of two! (i.e. 2 books for $5, four books for $10, etc)


Titles include:
Bleach Vol 3, 4, 8
Love Hina Vol 6 - 8, 12
W Juliet Vol 1, 2, 4 - 8, 11
Gundam Wing Ground Zero
Gundam Wing Episode Zero
Gundam Wing Endless Waltz
Cardcaptor Sakura Vol 2 - 5
Cardcaptor Sakura: Master of the Clow Vol 1
Saint Tail Vol 2, 4, 5
DNAngel Vol 3
Imadoki! Vol 3
Negima! Vol 1
Spiral Vol 2
Pokemon Special Yellow Edition


DVDs:
- Black Cat Vol 1 - 3 (episodes 1 - 12) $5 (or $12 for all 3)
- Death Note Vol 3 (episodes 9 - 12) - $4
- Mobile Suit Gundam Seed Vol 6 (episodes 26 - 30) - $4
- Mobile Suit Gundam Seed Destiny Vol 5 (episodes 19 - 22) $4
- Mobile Suit Gundam Wing Vol 10 (episodes 46 - 49) $4
- Neon Genesis Evangelion Plantinum Vol 7 (episodes 24 - 26; there are two versions of episode 24, the aired version and the Director's Cut) - $5
- Yu Yu Hakusho Vol 20 and 24 (episodes 67 - 70 and episodes 83 - 86; volume 20 is the edited version that contains only the English dub)
Tony the Chopper gashapon charms - $2 each
Yu Yu Hakusho and Inuyasha cards - $1 each
Shitajiki (Katekyo Hitman Reborn, Shakugan no Shana, Bleach) - $3
Mikuru Asahina figure - $3Yuna Figure - $3 Unforunately, I don't have boxes for either of this two figures...
D.Gray-man mini towels $3 each or $7.50 for all 3
Persona 4 Ultimate in the Mayonaka Arena Vol 2 rubber keychains - $9 each
(I'm sorry it keeps showing the picture upside down, it's not like that on my laptop, but every time I upload it it comes out like this...)
Lavi notebook - $4Kyo keychain $1
Pokemon Gold and Pokemon Crystal - give me offers!

WARNING: I do not have a GBC or GBA to check how well these games still play, i.e. if they retain saves or reset. Please take note of these if you intend to purchase either of these games.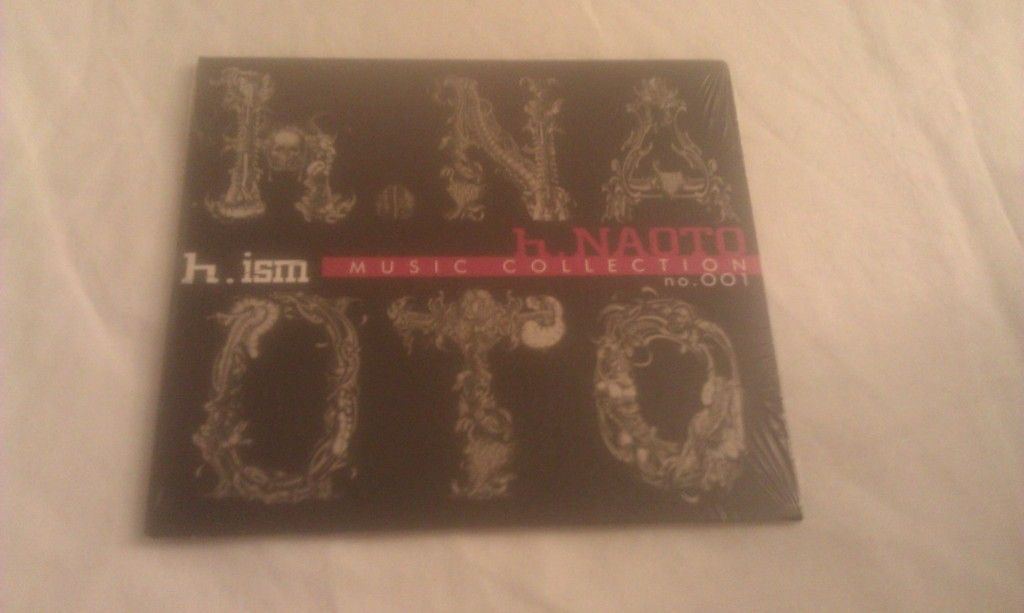 h.naoto music collection no. 001 - $ shipped

apparently, the music on this disc is what plays during h.naoto's fashion shows. i'm not sure, as i haven't listened to it (it's still wrapped).
Items I'm Willing to Trade For:

Mixed Vegetables (English) Volumes 6 and up
.hack//G.U.+ (English) Volumes 2 and up